HEAR FROM OUR CLIENTS
The success of the PT Centre is built on a foundation of hard work and effort put in by our brilliant clients. It is our goal to help you achieve yours.
Check out some of our client testimonials:
Adam Gooch talks about his experience at The PT Centre.
Gerda Olah talks about her experience at The PT Centre.
We asked our clients what they thought about The PT Centre in just 3 words…
"Here's What They Said"
Linzi loses 44kg and transforms her life both physically and mentally.
"Everything just fell into place, training, nutrition and positive daily habits. Very grateful for the encouragement, motivation and coaching from Adam, I'm over the moon with the results."
– Linzi Walker –
"I am the fittest and strongest I have ever been and couldn't imagine training anywhere else. Anyone looking for that extra bit of help and guidance The PT Centre is the place to go and you will never look back. Couldn't recommend them more highly!"
– Carly Jones – 
"Adam and The PT Centre have helped change my body and mind and I will be forever grateful"
– Julie Burton –
Josh learns how to lift weights, drops body fat and transforms his confidence.
"I quickly saw amazing results. I saw the measurements go down. But more importantly my mindset, confidence and general outlook has become so much better."
– Josh Weir –
Nicole talks about her experience at The PT Centre and the impact it's had on her life.
Linzi talks about her experience at The PT Centre and the positive impact it's had on her life both inside and outside of the gym.
Gerda transforms her body and mindset.
" You will be part of a community, a family. They are supporting me every step of the way to achieve my goals."
– Gerda Oláh –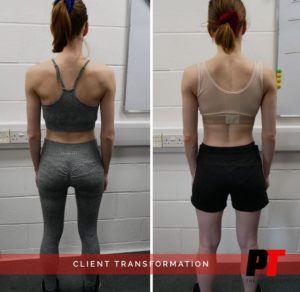 "I am so happy about my rapid results and feel confident in my body. I never thought I would be able to get where I am now. I am a different person!"
– Anna Williams – 
"I highly recommend The PT Centre for anyone who wants to be a part of a fantastic community of welcoming people, where you can get the fitness results you are looking for through realistic goal setting, routine and ongoing support."
– Paul Staniland –
" It's an extremely friendly and motivating environment to be part of and so far the results I've seen have exceeded my expectations. Adam and his team are very professional and there to fully support their clients at all times "
– Adam Gooch –
Joss talks about his experience at The PT Centre and the benefits he's seen for himself and the people around him.
Michele gives her thoughts on The PT Centre.
Ross drops over 30kg and transforms his body and mindset.
"They know how to get the best out of you, in and out of the gym with constant motivation and encouragement. To say they've saved my life in an understatement."
– Ross Anderson –
"I couldn't be more complimentary about the influence Adam has had on me not only physically but also mentally. His programmes are tailor made for each client, allowing you to reach your own goals without sacrificing what is important to you in your life."
– Will James – 
"The PT centre is so much more than a training centre – It's a special place that positively impacts the quality of life of it's members."
– Nicole Dunn –
"When I first began working out at to the PT Centre, I was very out of shape and self-conscious about joining a private gym. I had nothing to worry about though. I've really enjoyed my time at The PT Centre – all of the trainers are very friendly and the atmosphere is open and accepting, with people at all levels coming to be trained."
– Madison Porter –